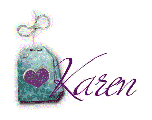 Today is a new challenge at Cards in Envy.
It is called Layers Challenge or commonly called Lots of Layers.
Remember use an A2 size card with lots of layers. Also remember it needs to be relatively flat (no bumpy or lumpy things sticking up). It needs to fit into a normal envelope and use regular postage only.
So I had this paper that matched in my scraps pile, took out a doily by Martha Stewart, used some twine, and then SRM sentiment. This is what I came up with:
I would love to see you come over and play with us. You know you use layers all the time. Come give it a try.