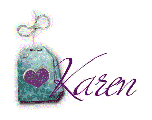 Today here is a new challenge over at Love to Scrap! Challenge Blog
The Challenge is Anything Goes,so I went way outside of my box and made a plaque for my neighbor. you see her brother has been playing with a remote control car and she wanted one in pink and purple, but her Dad said NO. So I made this using the digi from Lacy Sunshine Stamps.
I used some black straws that I put on some balsa wood, colored the digi using Tim Holtz distress markers and a water brush. I also used pink liquid pears and glitter dust.
So come on over to Love to Scrap! Challenge Blog and you can win a $20 gift certificate o Lacy Sunshine Stamps. You can start on some of those Christmas Projects you have been putting off.
Hope to see you.